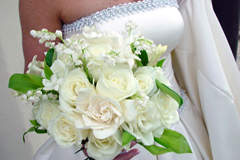 It is difficult to imagine having a wedding in the absence of flowers. Flowers for the bridal party, ceremony decor, and reception hall provide more than just beauty. They also provide color, aroma, and, more importantly, add a sense to your very special occasion. Flowers are, therefore, considered a rudimentary element of importance to include when planning your event, and for this reason, the florist you hire will play an integral role on the day of your wedding.
One of your first decisions regarding floral arrangements is to decide who and what will need flowers. Following are some possibilities.
Bouquet for the bride
Matching boutonniere for the groom
Bouquets for each of the bridesmaids
Matching boutonnieres for the groomsmen
Flowers for the hair for the bride and bridesmaids
Corsages for the mothers and grandmothers
Boutonnieres for the fathers and grandfathers
Flower petals for the flower girl
Altar flowers
Ceremony aisle Flowers
Reception table flowers
Wedding cake flowers
Extra bridal bouquet for the bouquet toss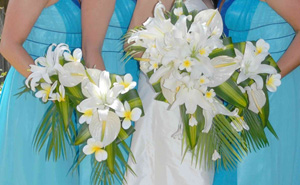 Next, you may want to get additional ideas and quotes from a few local florists. Following are some basic questions to ask in order to make an informed decision on which florist to consider for hire. Before proceeding, however, be sure to ask the first listed question to be certain they are available to do the job.
Are you available on my wedding date?
How long have you been in business?
Do you specialize in weddings?
Can you show examples of your work?
What floral arrangement suggestions do you have based on my theme?
Are you familiar with the ceremony and reception site?
Do you have other weddings scheduled on the same day?
Will I be charged a delivery and setup fee?
Do you have a discounted bridal package?
How much is the deposit and what are the total charges?
Flowers are an essential part of a wedding and, therefore, a lot of importance – as well as expense – is placed with the florist. Selecting the correct one is a paramount decision to make, and with these few helpful tips and questions in mind, making the right choice should expectantly be largely facilitated.