Round Hill Pines Beach Wedding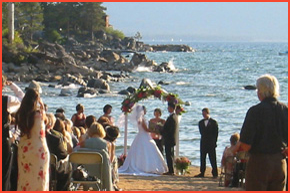 Round Hill Pines is a private Nevada beach equipped with a small, intimate cove, perfect for your wedding day celebration. The lagoon-like section of beach is very appealing and provides a great backdrop for ceremony photographs. Chairs for guests are provided and an arbor is also available for the ceremony.
Round Hill Pines Beach and Marina is located about one mile from the state line of California in Nevada on the south shore of Lake Tahoe. Since it is a Nevada site, it will require a Nevada marriage license. This beach location is fitting for small or large groups of up to 50 guests and is appropriate for casual or formal wedding attire.
(Round Hill Pines Beach and Marina weddings are seasonal from approximately May through October.)

Monday – Thursday
$2150
Friday – Sunday
$2350
Our Round Hill Pines Beach Wedding Package includes:
1 ½ hour beach reservation
Securing venue and obtaining contract
Ordained minister
Professional photographer
All photo images of the event and copyrights
Consultation with the minister
Traditional or personalized wedding vows
Traditional wedding music (upon request)
Chairs and arbor
Add to any package
Limousine Services $650 (2 hours)
Digital Videography $395
6 Rose Bridal Bouquet $125
Groom's Matching Boutonniere $20
3 Rose Bridesmaid Bouquet $65