Horse and Carriage Beach Venue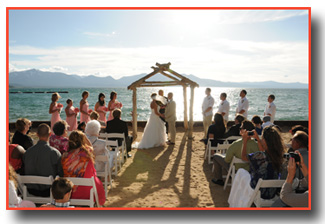 There is no need for a limo when you can have a beautiful horse pull your carriage through town to a private beach area for your wedding ceremony. The private coach will depart from the center of town near the casinos and will carry the bride and groom or selected bridal party members to the ceremony site, which is an enjoyable stroll to an eye-catching beachside location. The coach's capacity allows up to 6 people, so all other guests that will attend your wedding will meet at the event area.
Provided for you at this private venue are all the basic prescribed services plus chairs to accommodate all your guests, an arch, a sound system for the music that you furnish, a staff member to greet and direct your arriving guests, and a spectacular backdrop for the wedding photos. This lakeside beach location is not only an enthralling ceremony site, but it's also an ideal spot for convenience as it is situated in the central part of town. Additionally, the lakefront venue is very spacious and can accommodate large parties of up to 100 guests, suitable for either formal or informal attire.
As an added luxury (at additional cost), the horse drawn carriage can remain until the ceremonial event concludes and carry you and your new spouse away to the reception banquet or other preferred destination (if within half of a mile of the wedding site). Be sure to bring your favorite bottle of champagne for a celebratory toast along the way.
(Horse and Carriage availability is from approximately May through October)
Monday – Thursday
$895 (plus venue & carriage fees)*
Friday – Sunday
$995 (plus venue & carriage fees)*
Our Horse and Carriage Beach Wedding Package includes: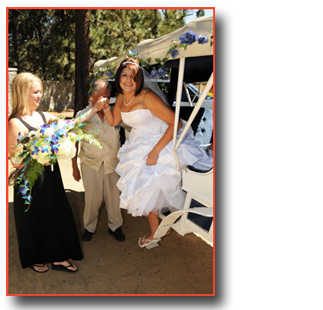 1 ½ hour private beach reservation
Securing venue and obtaining contract
Horse and Carriage ride to ceremony site**
Ordained minister
Professional photographer
All photo images of the event and copyrights
Consultation with the minister
California marriage license
Notary fees
Traditional or personalized wedding vows
Sound system for music
Chairs for guests
Austere wooden arbor
Staff attendant
* (Venue fees consist of a 90 minute private beach reservation and H&C ride to wedding site. Additionally, venue management requires event liability insurance that's not included in the fees below, but can easily be obtained at minimal cost.)

VENUE & CARRIAGE FEES
Monday – Thursday
$2095
Friday – Sunday
$3595
** (The quoted prices are for the horse and carriage ride to the ceremony site only. Additional fees are applied at $150 per 1/2 hour thereafter if further passage is desired.)


Horse and Carriage Chapel Wedding
A second option for those couples who would prefer a smaller, more intimate ceremony is to direct their horse drawn carriage to a local wedding chapel for an indoor ritual. Departing from the central part of town close by the casino area, your carriage ride will proceed through town to a quaint chapel not too distant from the beautiful shoreline of Lake Tahoe.
The chapel seats up to 25 guests.
Monday – Thursday
$1395
Friday – Sunday
$1495
Our Horse and Carriage Chapel Wedding Package includes: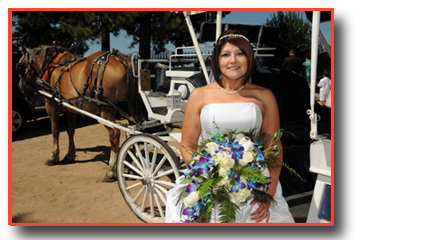 1 hour private wedding chapel reservation
Horse and Carriage ride to ceremony site**
Ordained minister
Professional photographer
All photo images of the event and copyrights
Consultation with the minister
California marriage license
Notary fees
Traditional or personalized wedding vows
Traditional wedding music
Chairs for guests
** (The quoted price is for the horse and carriage ride to the ceremony site only. Additional fees are applied at $150 per 1/2 hour thereafter if further passage is desired.)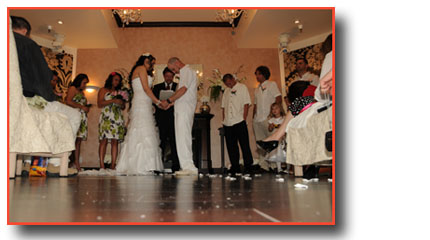 Add to any package
Limousine Services $650 (2 hours)
Digital Videography $395
6 Rose Bridal Bouquet $125
Groom's Matching Boutonniere $20
3 Rose Bridesmaid Bouquet $65