Zephyr Cove Beach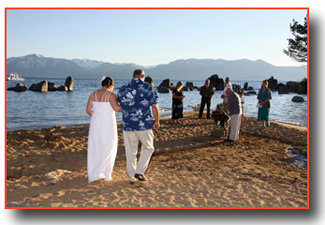 Some of the finest beaches in Lake Tahoe are found along the southern shore, and Zephyr Cove is one of the best. Located just a few miles from the state line in Nevada, this resplendent wedding site offers a dazzling view of the lake's incredible sapphire colored water and the attention-grabbing Sierra Nevada Mountains that pervade the background. The imparted ambiance of this fascinating location is one of repose, and the march down the sandy aisle of matrimony will be an energizing journey to be remembered.
Following a brief hike down an unmarked path through the timbered foliage, your toes-in-the-sand affair will occur near the lakefront that's structured with eye-catching rock configurations that contribute pointedly to the grandeur of this exceptional beach ceremony venue. As an added benefit, if conditions are favorable, Zephyr Cove is positioned to capture a dramatic alpenglow sunset, a reddish hue that pierces the clouds and emits a brilliance throughout the sky.
Home to the famous M.S. Dixie paddle wheel riverboat, this magnificent site is ideal for small groups that want to enjoy a casual, informal wedding. Parking is available, but there is an entry fee per car and it's very limited during peak summer season. Therefore, arranging for transportation is recommended (see Shuttle Services below).
Since Zephyr Cove Beach resides in Nevada, a Nevada marriage license must be obtained by the bride and groom prior to the wedding.
(Total group size is limited to 10 people due to forestry service restrictions. Also, because the area is open to the public, setting up chairs for guests is prohibited.)

Monday – Thursday
$645 (permit included)
Friday – Sunday
$695 (permit included)
Our Couple's Choice Package at Zephyr Cove includes: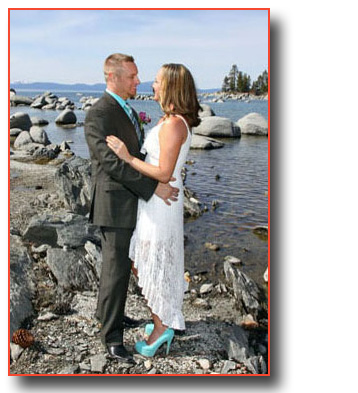 Ordained minister
Professional photographer
All photo images of the event and copyrights
Consultation with the minister
Traditional or personalized wedding vows
Permit fee
Add to any package
Limousine Services $650 (2 hours)
Digital Videography $395
6 Rose Bridal Bouquet $125
Groom's Matching Boutonniere $20
3 Rose Bridesmaid Bouquet $65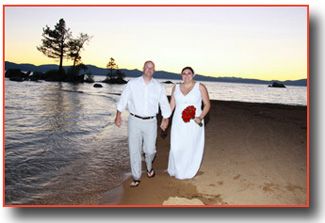 Shuttle Services
Since Zephyr Cove Beach parking requires an entry fee per car and tends to be exceedingly limited during the summer months, we've made available a convenient shuttle service that can provide you and all of your guests transportation to and from the wedding site. The shuttle offers a comfortable ride that allows those attending the celebration to arrive together and on time while enjoying a socially friendly environment.
After the ceremony, your private bus will bring you to your reception site or other locally chosen destination. Provided at a cost only marginally higher than traditional limousine service, the shuttle bus is an inviting amenity that's a surefire way to reduce the stress on a very special day.