Heavenly Mountain Ski Wedding
A Heavenly Mountain Ski Resort wedding is a unique way to begin your marriage. The bride and groom and guests will ski to a predetermined area on one of the resorts peaks where your ceremony will take place. The pictorial site is just off the ski trail that presents an unimaginable backdrop for your special occasion. The panoramic views of Lake Tahoe and the Sierra Nevada Mountain Range create an exceptional setting for the photography session, producing dazzling photos that will amaze you.
After the formalities conclude, you may ski the balance of your wedding day together as husband and wife, if you choose. The resort has nearly 5,000 acres of terrain with over 30 lifts that can take you virtually anywhere in the mountainous regions of the resort's topography. Once you begin exploring the multitudes of accessible ski trails, you'll find many other overlooks of Lake Tahoe and Carson Valley offering spectacular sights and a plethora of brilliant photographic opportunities.
Monday – Thursday
$1225
Friday – Sunday
$1325
Ski package does not include lift tickets. The bride and groom and attending guests can obtain tickets at the Heavenly Village gondola base on the day of the wedding and will cost approximately $130 each (price is subject to change and may vary). Recommended group size is up to 10 people.
Our Heavenly Mountain Ski Resort Wedding Package includes: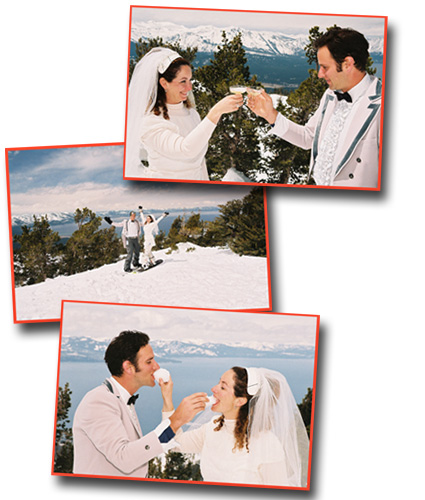 Ordained minister
Professional photographer
All photo images of the event and copyrights
Consultation with the minister
California marriage license
Notary fees
Traditional or personalized wedding vows
Add to any package
Limousine Services $650 (2 hours)
Digital Videography $395
6 Rose Bridal Bouquet $125
Groom's Matching Boutonniere $20
3 Rose Bridesmaid Bouquet $65