Regan Beach Park Wedding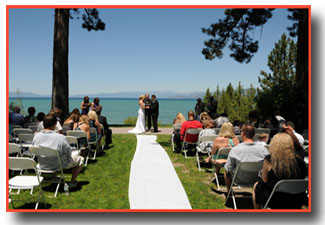 An appreciated and conveniently situated year-round wedding location in South Lake Tahoe is none other than scenic Regan Beach Park. One of the main reasons for its recognition is the site's natural surrounding beauty. The designated private section of Regan Beach that's used specifically for summertime events is a perfect outdoor wedding venue that emits an ambiance of serenity and repose.
The area consists of a park-like setting overlooking Lake Tahoe with your ceremony taking place on a grassy knoll under the tall, century old Jeffry Pine trees. It is a spacious area, and up to 100 guests can be accommodated. Further welcoming benefits include the park's central positioning to town, which offers easy access and convenience for you and your guests, ample free parking, and handicap accessibility.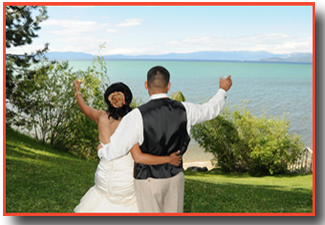 With acquisition of a site permit, this ideal beach locality can be reserved for a private wedding, and acquiring the necessary permit along with securing a park reservation for your specific date and time can be accomplished through services provided by Alpenglow Weddings.
Upon reserving Regan Beach Park's designated area on the grassy knoll, your reservation will include two hours of private use. Once a permit is secured, chairs can optionally be delivered and setup for your guests' comfort (at additional cost), and you can also arrange preferred embellishments, such as an arch, floral designs, or any other decorative notions you may have for your ceremony.
One additional feature worth noting is that if you're planning on having a celebration following the service, this wedding site is multifunctional, which means you can host the banquet here if you desire, avoiding costs of obtaining another facility. Portable tables can be erected for catered food, cake cutting, or champagne toasting.
At the Water's Edge
As an option for the budget-minded who's planning on having only a small group of up to ten or fewer people attend the affair, you may choose to have your ceremony on the sandy beach along the shoreline as an alternative to the grassy knoll. Please be aware, though, that this option is not a private setting and that putting up chairs or decorations on the beach is not allowed. However, since this spot is intended for a simpler, informal service with minimal guests, we offer a discounted rate. Because this area is accessible to the public, the best time to have the ceremony is in the morning or very late afternoon to avoid summer crowds. This principally applies to weekends throughout the summer season.

With appealing traits conducive to commemorating an exceptional day, this delightful, year-round location is suited for both small and large groups and appropriate for relaxed or formal apparel.
Monday – Thursday*
$1695
Friday – Sunday*
$1795
* Discount available for small groups of ten or less. Discount available for larger groups off-season.

Our Couple's Choice Package at Regan Beach includes:
2 hour park reservation (with paid site permit)
Securing venue and obtaining contract
Ordained minister
Professional photographer
All photo images of the event and copyrights
Consultation with the minister
California marriage license
Notary fees
Traditional or personalized wedding vows
Traditional wedding music (upon request)
 Add to any package
Limousine Services $650 (2 hours)
Digital Videography $395
6 Rose Bridal Bouquet $125
Groom's Matching Boutonniere $20
3 Rose Bridesmaid Bouquet $65