Logan Shoals Vista Point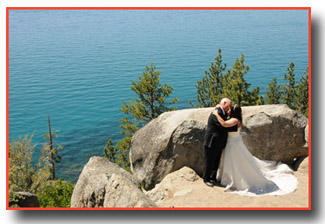 With the approximate 300 feet high overlook of Lake Tahoe, the vista point at Logan Shoals makes a great Nevada wedding site for the bride and groom who want to marry in a beautiful and composed outdoor venue. Vista Point's magnificent views are stunning, and when conditions are right the alpenglow sunsets create a romantic wedding atmosphere for those couples desiring a sunset ceremony.
Located off Highway 50 on the east shore of Tahoe about twelve miles from the Stateline casinos, Logan Shoals remains hidden away and unknown to many visitors, making it a secreted jewel and a perfect setting for a wedding. Possessing similar characteristics to Emerald Bay, the vista point is a great alternative. However, since this venue resides in Nevada, a Nevada marriage license is required and must be obtained by the marrying couple preceding the event date.
In conjunction with abounding splendor, Logan Shoals emanates an ambiance of intimacy that's particularly ideal for small groups. Weddings are performed year-round at this location, and formal to informal dress is very fitting.
(Because the USDA Forestry Service restricts group size, this site is limited to 20 people. Additionally, since it is a public area, setting up chairs or other objects is not permitted.)

Monday – Thursday
$645 (permit included)
Friday – Sunday
$695 (permit included)
Our Couple's Choice Package at Logan Shoals includes: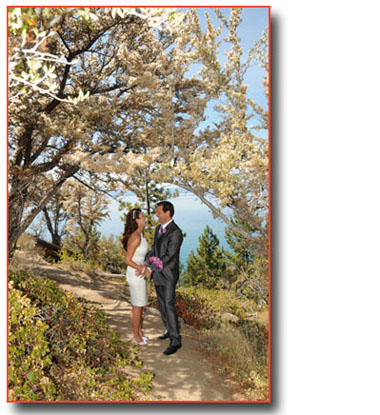 Ordained minister
Professional photographer
All photo images of the event and copyrights
Consultation with the minister
Traditional or personalized wedding vows
Permit fee
Want a simpler package at Logan Shoals?
Our Simple and Sweet Ceremony is an option!
Add to any package
Limousine Services $650 (2 hours)
Digital Videography $395
6 Rose Bridal Bouquet $125
Groom's Matching Boutonniere $20
3 Rose Bridesmaid Bouquet $65

Shuttle Service
As part of our wedding services, we offer shuttle service to and from the wedding site for the bride and groom and all of their guests. Ride in comfort and style on the most important day of your life with the added assurance that all of your guests will arrive together and on time. Once aboard, you'll enjoy comfortable seating for up to 20 people. After the ceremony, your private shuttle will transport you and your party to your local reception facility, all at a cost that's only slightly more than traditional limousine services.