Bride and Groom Testimonies
Newlyweds Talk About Their Wedding Day Experiences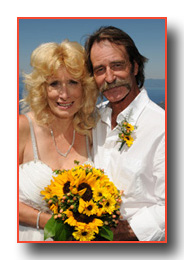 Dear Kenny,
Thank you so much for giving me an absolutely perfect wedding. My husband and I really liked Minister John. He was funny and not an old stuffy type. We loved how the pictures you took turned out. You did a fabulous job. The views from the observation platform at Heavenly were amazing. I would recommend your services to anyone.
Thank you again.
Sherry and Russell
Brentwood, CA
September 3, 2011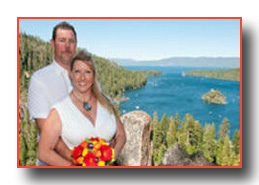 Hello Kenny,
I am in receipt of your photos from our wedding on December 20 at Emerald Bay. I just wanted to thank you. They were so lovely. Especially thank you for taking the time and extra photos to capture the day. I just can't decide which ones to frame!
We wish you a very happy new year!
Kristina and John
Folsom, CA
December 20, 2010
To Alpenglow Weddings Staff,
We appreciate so much all your help in making this a most memorable occasion. Many Thanks!
Mike and Eunice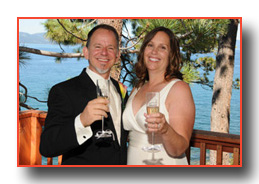 Kenny,
Thank you for helping make our wedding day on 10/10/10 a perfect one! The pictures were great! It was nice to relax and not have to worry about the organizing…you did it all for us!
Jo and Mark
Folsom, CA
October 10, 2010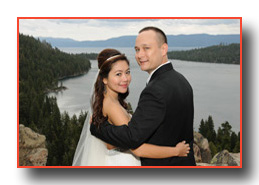 Alpenglow Weddings,
Denny and I want to thank for your time on our wedding day. The photos turned out great. We were both pleased and excited to share them with friends and family. You do great work!
Sincerely,
Denny and Diane
Chico, CA
October 6, 2007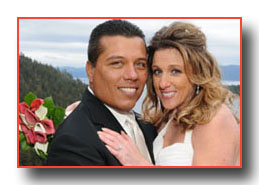 Kenny,
Thank you for all your help and assistance in making this so simple for Rob and I.
Jennifer and Robert
Pasa Robles, CA
11-11-11
Dear Kenny,
Our experience was wonderful working with you. The Boathouse Pier was so beautiful and was everything I could have hoped for. Your pictures were wonderful. I have them all in our wedding book and still find myself viewing them daily. Our hopes for a simple yet memorable and beautiful wedding were well met with all your help!
Thanks again!
Rande and Lawrence
Reno, NV
September 24, 2011