Emerald Bay Wedding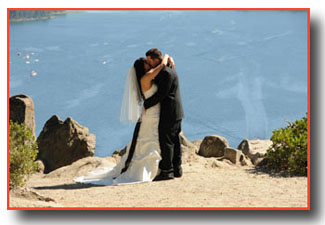 The view from the precipice of Emerald Bay delivers one of the most beautiful sights in the world, and for this reason it tends to be a highly desirable spot for those wanting to walk the aisle of matrimony. This spectacular wedding site is an extraordinary location, allowing for an extraordinary experience. Your wedding ceremony will take place on a bluff at Emerald Bay towering approximately 300 feet over Fannett Island and the tri-colored bay water, offering breathtaking panoramic views of Lake Tahoe.
Emerald Bay is surrounded by the Sierra Nevada Mountain Range, a majestic view that encloses the bay with unimaginable imagery. Combine this with the fact that Emerald Bay's overlook is an unperturbed wedding location that will provide you and your guests with a relaxed setting on your memorable occasion, and you'll inevitably conclude that the bluff over the bay is a perfect outdoor ceremony venue. What's more, with such scenic beauty, the backdrop for your wedding photos will be unsurpassed.
It's necessary to mention, however, that since this magnificent locale is a delight and produces an attraction for many sightseers, parking is extremely limited. Therefore, an important aspect to consider for your Emerald Bay wedding is our recommendation to acquire limousine or shuttle services that will provide transportation to and from the ceremony site for you and all attending guests. This is especially true during the peak touristic season and is essential (May through October) if the bride, groom, and all guests are unable to arrive to the site using only one vehicle. For convenience, we can arrange for a stretch limo that seats up to 7 people or a shuttle bus with seating for up to 20 people (see Shuttle Services below).
(Due to restrictions set forth by California State Parks, groups are limited to a maximum of 20 people. Also, because it is a public area, setting up chairs is not permitted.)

Monday – Thursday
$795 (plus site permit fee)
Friday – Sunday
$845 (plus site permit fee)
Our Couple's Choice Package at Emerald Bay includes: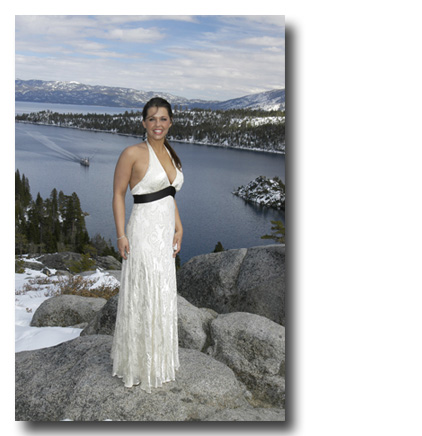 Ordained minister
Professional photographer
All photo images of the event and copyrights
Consultation with the minister
California marriage license
Notary fees
Traditional or personalized wedding vows
Traditional wedding music (upon request)
Permit acquisition
Want a simpler package at Emerald Bay?
Our Simple and Sweet Ceremony is an option!
Add to any package
Limousine Services $650 (2 hours)
Digital Videography $395
6 Rose Bridal Bouquet $125
Groom's Matching Boutonniere $20
3 Rose Bridesmaid Bouquet $65

Shuttle Services to Emerald Bay
Parking at Emerald Bay is at times very scarce, especially in the summertime, mainly because this incredible area is recognized as a National Natural Landmark and attracts a great deal of visitors each year. Therefore, transportation services are recommended (essential May through October) and made available to you and your guests, allowing your entire party to ride in comfort and style to the wedding site.
Options include a stretch limo with seating for up to 7 people or a shuttle bus that seats up to 20 people. Either of the selected services will include a return trip from the ceremony site to the reception or other locally appointed destination.