If you're searching for a leading destination wedding hotspot and desiring to get married in the outdoors, you may want to consider a Lake Tahoe beach wedding. Tahoe is one of the most picturesque places in the world and has a large variety of fabulous beaches that are most impressive. Two popular ones found along the south shore are Regan Beach and Lakeside Beach.
Regan Beach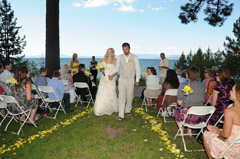 A highly endorsed venue situated on the south side of the lake is Regan Beach. Centrally located, this glittering beach site is easily accessed and available throughout the year. Although it is open to the public, a section of the beach is cordoned off where weddings are held. The reserved area is a grassy knoll that's similar to a park-like setting and is surrounded by towering pine trees. The park is adjacent to the water and slightly elevated, which presents a great backdrop for your ceremony and ensuing formal photography.
Lakeside Beach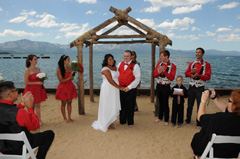 Another preferred beach venue that's located in the vicinity of the Stateline casinos in the heart of town in South Lake Tahoe is Lakeside Beach. It's a beautiful location with views of the striking Sierra Nevada Mountains and Lake Tahoe. Your ceremony will take place on the sand, providing the perfect opportunity for an informal, bare-foot wedding. Chairs and an arch are provided for the ceremony in addition to a personal attendant to help organize your wedding party and guests.
In contrast to Regan Beach, Lakeside Beach is private, and only those who have expressed permission are allowed to enter the beach area. Also, whereas Regan Beach is available for weddings year-round, Lakeside Beach is seasonal.
Tahoe has, for many years, been an intriguing destination for countless marriage potentials, and once you've explored the region, the allure of this magical place becomes apparent. Although Regan Beach and Lakeside Beach are only two beach wedding venues we have recommended on the south shore, there are ample more situated throughout Lake Tahoe, each having characteristics unique unto itself. If a beach wedding is a consideration and presently within your planning confines, Lake Tahoe is definitely a viable option worth further exploration.