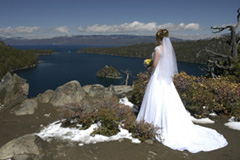 At elevated heights on a precipice overlooking Lake Tahoe is a spectacular area that is often traveled to from distant places by those wishing to unite in marriage in a natural and unique environment. Emerald Bay Falls – a National Natural Landmark that's well known for its immense beauty – is a top choice wedding venue that for decades has been a favorite among engaged couples planning a destination wedding.
Because of the pristine habitat in which it exists and the astounding sights it exhibits, Emerald Bay Falls is one of the most popularly photographed places in the world, and these innate qualities are contributing factors as to why the bluff overlooking the bay is selected as a destination wedding choice by so many. Observed from an elevation high above Lake Tahoe, the unblemished picturesque landscape extends for miles.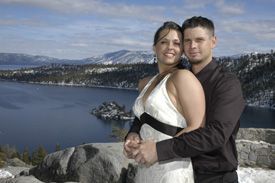 Part of the makeup of Emerald Bay is the colorful water of the cove where Fannette Island is located, which is the only existing island in Lake Tahoe. The island contains what is left of the Tea House, an edifice that was built by the owner of Vikingsholm, a nearby historical mansion that was constructed in 1929 of Scandinavian architecture. Fannette Island presents an attractive backdrop when viewed from the cliff overlooking the inlet, and when atmospheric conditions are right, the lake water that surrounds the land mass is a rich Emerald color, enhancing its inherent beauty.
Wedding ceremonies are conducted in a secluded area on the pinnacle of the overhang displaying the gorgeous 72 mile circumferential shoreline of Lake Tahoe, which is bounded by the colossal peaks of the majestic Sierra Nevada. It's a sight to behold and endows an exquisite feeling while you exchange your vows in the open air of nature.
Marrying at Emerald Bay Falls high on a precipice that generates an ambiance of splendor and majesty in a natural setting is an extraordinarily unique way to traverse down the aisle of matrimony, but it is a sure favorite among brides and grooms when it comes to selecting a ceremony venue in Lake Tahoe. The bluff over the bay with its exemplary virtues has always been a top choice for destination weddings, an enticing National Natural Landmark that, once within its presence, you will discover to be a place far more beautiful than imagined.