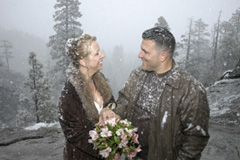 Regardless of the season, weddings in Lake Tahoe occur daily throughout the year, and the brisk days of winter are no exception. However, due to weather unpredictability and rapid climate changes, it's a good idea to do a little extra research and planning to assure that your winter wedding will proceed as planned.
The first and foremost thing you'd want to do before making the journey to Tahoe is to check the day's weather forecast for the Lake Tahoe area. While your local hometown may be experiencing sunny skies, even if it's just as little as 50 miles away, Lake Tahoe could be experiencing blizzard-like conditions. Nevertheless, if you properly prepare yourself for the possibility of snow and allot extra time for the drive, as long as driving conditions are not too hazardous on the mountain passes and they remain open, altering your plans due to snowfall may not be necessary.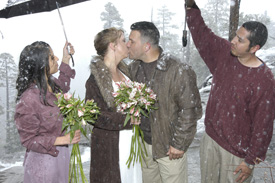 But, you may be thinking, "Who wants to get married in a snowstorm?" The fact is, as long as the weather is not to severe, many brides and grooms choose to follow through with their original plans. The unique experience of having an outdoor wedding as snowflakes fall adds to the excitement of the day in addition to creating a doting memory.
For the less intrepid, however, there are several local chapels in town that offer refuge. If weather conditions become so severe just prior to your appointed wedding time, the alternate plan of moving indoors is a common practice and not all too difficult to do as most wedding chapels in Tahoe are readily available on a moment's notice. Keep in mind, though, that most chapels are setup to accommodate a limited amount of guests, ranging up to about 50 or so people.
Another rather important tip to adhere to when planning your winter event is to avoid reserving an outdoor wedding area and paying the corresponding permit fees for its use. It would be disappointing to spend $400 or more for a permit and have Mother Nature force your wedding party indoors, later finding that the facility you reserved does not offer refunds. As long as you have a small guest count – fewer than twenty five – never pay for an outside beach area during winter months. There are several places in South Lake Tahoe, such as Regan Beach, where it is unnecessary to acquire a permit in order to conduct a ceremony on the beach. This applies mainly to small parties, but it can apply to large parties as well depending on the specific wedding date.
With just a little judicious thought, planning a winter wedding in Tahoe is quite workable. Weather can be a deterrent at times, but most often than not, the majority of winter weddings proceed as planned, with only a small portion having to make slight adjustments. Perhaps a winter chill may present itself with a backless wedding gown, but the general consensus of former winter brides and grooms is that the awesome experience of an outdoor winter wedding in Lake Tahoe is well worth it.